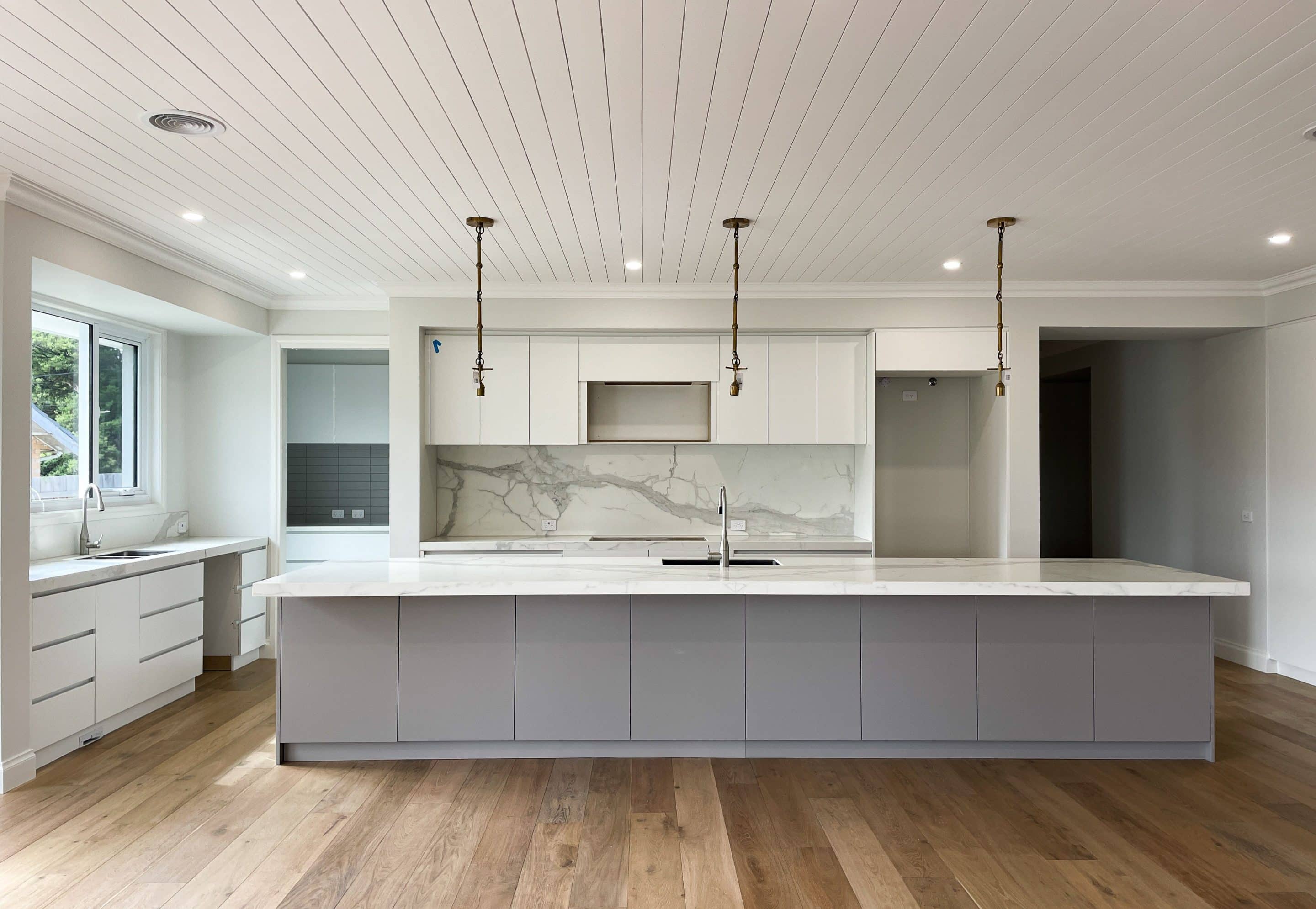 Wood is not only a timeless element in interior design, but also just so happens to be a massive trend as of late with all the best luxury designers seeking out natural wood, such as timber and teak, for its natural ambiance. When it comes to bespoke interior design, one element that can instantly transform a space, providing warmth and a lived-in quality, is wood. By using wood for elements such as posts in your front yard, through to your front door, and exposed beams inside your home, you can incorporate sophisticated aesthetics that bridge the divide between the outdoors and in.  Here our luxury home builders, are enamoured by the tranquil and raw quality of wood, and are always looking for ways to incorporate it into a client's project. Whether you're building a luxury home from scratch, in the final stages of putting your space together, or simply refurbishing, here are some inspiring ways to incorporate natural woods into your interior design.
Feature Walls
One way to stand out and make an impact in your living spaces is by creating a statement wood feature wall. Opt for a high-quality wood with charming patterns and grain, such as walnut or oak, and use it to cover one wall in a room. This is the easiest way to add a textured and visually stimulating feel to the space; and this technique can bring a wonderful sense of depth to your bedrooms and living room.
Details and Finishing Touches
Consider bringing your space together with smaller wooden pieces to create a sense of cohesion and harmony within your home. Elements such as wooden benchtops or decorative wooden wall panels are a perfect way to achieve this and balance out the disparate elements of your home. Even better, hunt for repurposed wood for sustainability, and custom woodwork in your cabinetry for the unique factor. These accents highlight the craftsmanship and natural elegance of your home and guarantee the longevity of your space.
Ceiling Elements
High ceilings can be an interesting feature of luxury homes, and adding wooden beams can accentuate the spaciousness of your interior spaces. Exposed wooden beams bring a rustic yet refined charm to a space, especially in living rooms, dining areas or kitchens. They add an architectural character to your home, all while creating a comfortable atmosphere that takes inspiration from the natural world. You can choose to stain or leave the wood in its natural colour, depending on your desired outcome.
Floorboards
You can never go wrong with hardwood floors, with their timeless beauty, reliability, and sturdiness. Installing natural wood flooring, such as oak, maple, or hickory, is the best way to showcase the luxurious and bespoke tailored qualities of your home. The warmth and character of wood floors won't go unnoticed by guests, and the imperfect qualities of these raw materials bring your home down to earth, providing a sense of interconnectedness with nature and a calming effect.
Luxury Furniture
And finally, well crafted natural wood pieces can enhance any interior space and are a worthwhile investment for your home. Look for handcrafted furniture made from sought-after woods such as mahogany, teak, or rosewood. These luxurious materials are practical and durable, but also beautiful to look at. By incorporating natural elements into your home, you are creating a welcoming and relaxing environment that is crucial to any living space, study or bathroom, providing you and your guests with the ability to unwind and feel at peace.
Luxury is more than just high ceilings and high-end materials, it's a feeling of complete comfort and pride in your space. Thinking of incorporating natural wooden elements into your home? Contact new home builders,  and luxury design specialists to get started today.