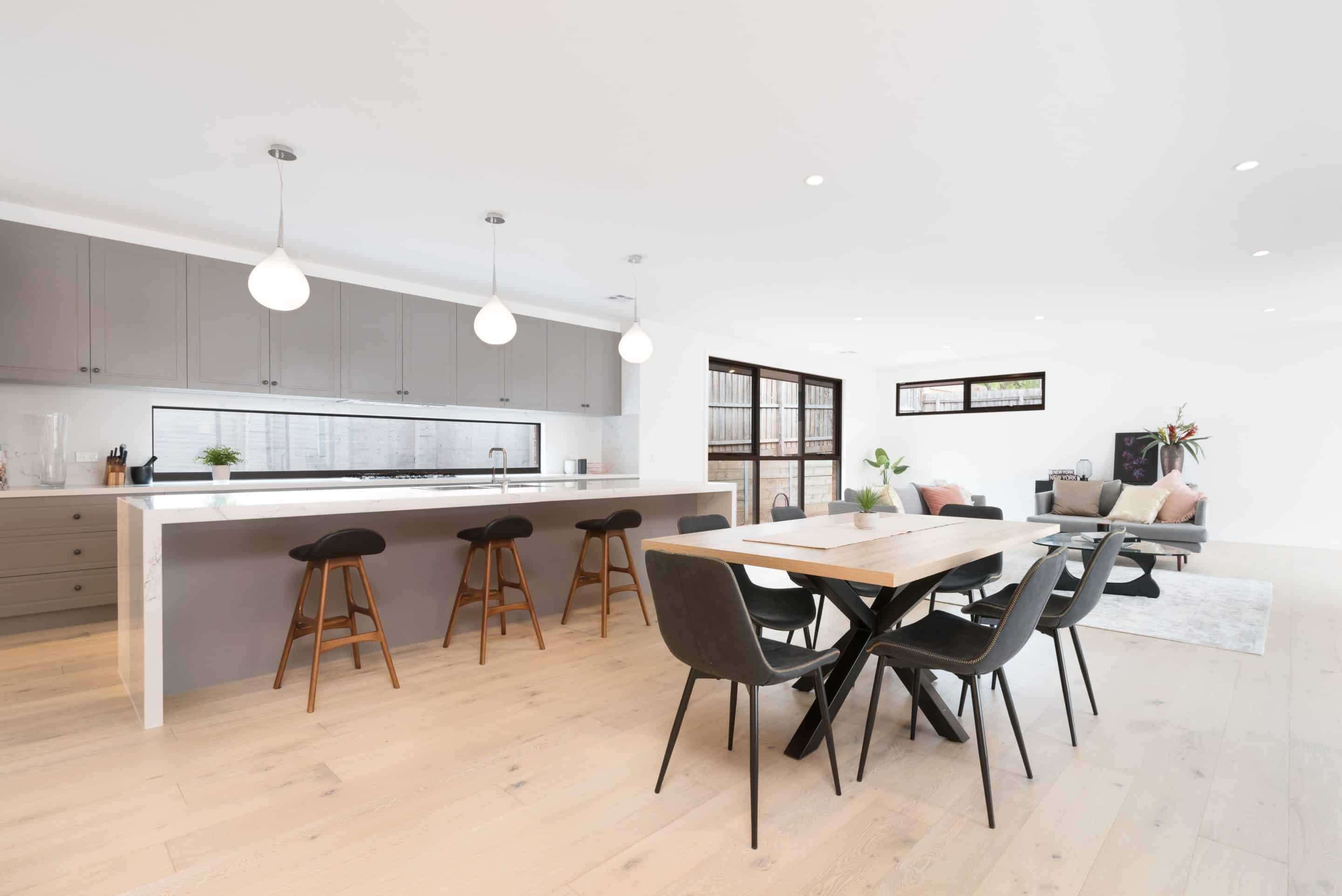 If you have a smaller block or home, or if you're just looking to make the most out of your space, it's a good idea to consider all the ways you can maximise your living areas. This can be an excellent way to make your home more functional, organised and tasteful.
Take it from Ramsay Builders, your residential home specialist – with extensive experience in custom homes and knockdown rebuild projects throughout Melbourne's south-east suburbs. If you're considering embarking on the journey of building a bespoke new home, here are some ideas for how to achieve a neat and airy space:
Vertical space
Consider getting creative and making the most of the storage available in your home to keep your items organised and to prevent clutter. A professional construction company, such as Ramsay Builders, can incorporate this into the build by installing finishings such as shelves, wardrobes and cabinets to maximise the use of your wall space and move things off the floor.
There are many creative storage solutions available that can help you make the most of your space, especially the built-in options; and the design and construction of your home has a huge impact on the final result so plan for these to be incorporated from the get go.
Light colours
A soft colour palette featuring colours such as white and beige can make a space feel more open and spacious. Paint your walls light colors, and use light-colored benchtops and window treatments for an expansive feel to your home.
Open-concept
Open-concept-living is a popular method for achieving that bright and roomy atmosphere that so many of our clients are after. Removing walls between rooms can make your home feel more spacious and open. If possible, consider creating an open-concept living space to maximize your home's square footage; this will result in one continuous path between your rooms, as well as your exterior and interior spaces that are typically divided.

By implementing some of these concepts, our architectural home builders can help you maximize the space in your home and create a more comfortable and aesthetically pleasing living space.
Multi-functional spaces
You can also maximise the space in your home during the construction phase by drawing up a plan that includes multi-functional spaces that can serve different purposes. For example, a home office that can double as a guest bedroom. At Ramsay Builders, we have experience dealing with all kinds of projects made to suit a vast plethora of clients, so there's bound to be an option that works with your space. As Luxury home builders, we understand the importance of creating a space that will serve you for years to come.
Outdoor Space
Maximise your space by implementing a balcony, patio or deck into the design. This way you'll be able to utilise both your outdoor and indoor spaces for dining, entertaining, leisure and work. You can add features such as a sliding door to further open up your home, making it extra roomy.
Planning to Knockdown & Rebuild?

Our team of new home builders remain on top of the latest trends and regulations in the homebuilding industry. Through our constant research and continuous training, we provide our clients with the most innovative home designs in Melbourne. Contact Ramsay Builders. We'll help you bring your extraordinary new home to life.