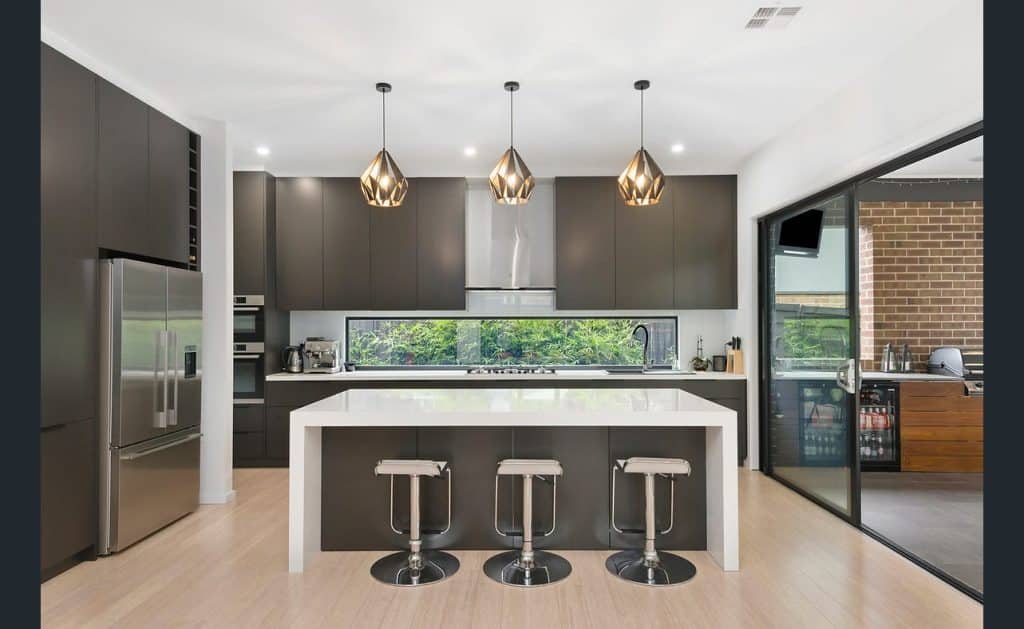 Modern Elegance
The kitchen is arguably one of the most important rooms in any home. A place in which we can share meals with friends and family, where we can entertain guests, and experiment with new recipes. In 2023, the kitchen is being taken to a whole new level, becoming one of the most stylish and functional elements of any modern home. Kitchen cabinet trends are evolving all the time, but one thing is constant and that is the innovative and timeless home designs we are known for at Ramsay Builders. Here are the trends we have our eyes on in 2023.
Sleek Minimalism
In 2023, sleek and minimalist cabinetry is becoming a staple of any contemporary home. Homeowners are set on simple, clean designs that emphasise livability and functionality. Our luxury home builders recommend seamless cabinets with smooth surfaces and understated hardware, conveying a sense of modern elegance. These cabinets aren't only pleasing to the eye but will complement a range of interior design styles, blending effortlessly into your home and instilling a sense of calm and cohesion.
Switch Colour Palettes
While neutral tones have dominated the market for years, 2023 homeowners are considering bolder and more trendy colour palettes for the kitchen. Some examples might include an uplifting splash of green or blue, and even matte black for a more sophisticated flourish. These bold colors add personality and strike the perfect balance: making a statement while retaining the timeless appeal of your home.
Eclectic Materials
Combining different materials is the hottest new kitchen design trend of 2023. We would suggest elements such as wood, metal, glass, and even concrete to add texture and depth to the kitchen. By integrating contrasting materials into your cabinetry, you can easily elevate your space without having to go the extra mile. This trend provides you with the opportunity to showcase your unique style and personality while staying true to the original layout of the home.
Sustainable Designs
Smart technology is taking over our homes in 2023, and that doesn't stop at the lounge room. Home owners and designers are finding clever ways to incorporate tech-savvy options into their cabinets, making your life more efficient all while being environmentally friendly. Smart cabinets are an efficient way to optimise your day-to-day life. Eco-friendly materials and energy-efficient designs are also key in 2023. Recycled wood, low-VOC finishes, and energy-saving lighting options are some of the ways you can make your home stand the test of time.
Open Shelf Cabinets
Open shelving and display cabinets are gaining traction in the kitchen design space for their practical and stylish functionality. These open cabinet elements are the best way to show off your fancy dinnerware, cookbooks, art and decor collection. Open shelving is a popular way to enhance the spaciousness and airiness of your kitchen, making it an inviting space for dinner party guests.
Hidden Storage
In 2023, you no longer have to sacrifice style for practicality, and hidden storage solutions are a sure-fire way to do it. From pull-out drawers behind cabinet facades to multi-functional corner units, home designers are finding innovative ways to maximise space in the kitchen and ensure a clutter-free environment.
Explore your options!
Our team of new home builders at Ramsay Builders have a great eye for emerging and timeless kitchen design trends. It's why we incorporate these into the design of the custom homes we build. Get in touch today.