Spring is a great time to declutter, reorganise and clean.  After being closed up for winter, it's time to throw open the windows, let the fresh air blow in and spruce up your home.
Decluttering can be daunting at first but once you get started, you'll be satisfied and proud that you've got the job done. To make spring cleaning a little easier, make sure you:
Arm yourself with rubbish bags and boxes for unwanted items
Be firm – if it hasn't been used in a while throw it away
Turn on some music for motivation
Create a checklist – not everything needs to be done in a single day but a list gives you direction and a sense of achievement even if you don't finish
When creating your checklist, think about the following areas of your home to ensure every corner receives a little bit of love.
Windows and Doors
Clean your window frames and windowsills as these may have gathered dirt over winter, especially if you have a fire. Wipe down door handles and doorframes, including any sliding door tracks as these can become full of dust and pet hair over time. Lastly, spray and wipe your windows with a glass cleaner on the inside and out to ensure the summer sun can shine through.
Dusting
Whip out your feather duster and begin by dusting the top of your doorframes, windows and skirting boards. Dust any ceiling fans and light shades in your home, ensuring you move furniture to access any hard to reach places. This is also a great opportunity to rearrange the layout of your room – after all, change is as good as a holiday.
Bathrooms
While you probably clean your bathrooms regularly, it's important to give them a deep clean every now and then, as clutter can build up over time. When you're spring cleaning, take the time to empty drawers, shelves and cupboards and throw away anything that isn't needed, particularly expired or unused products. Sort out remaining items and give the drawers or shelves a wipe out before replacing them. If you've got the space, why not treat yourself to some striking baskets so you can organise and store items in categories.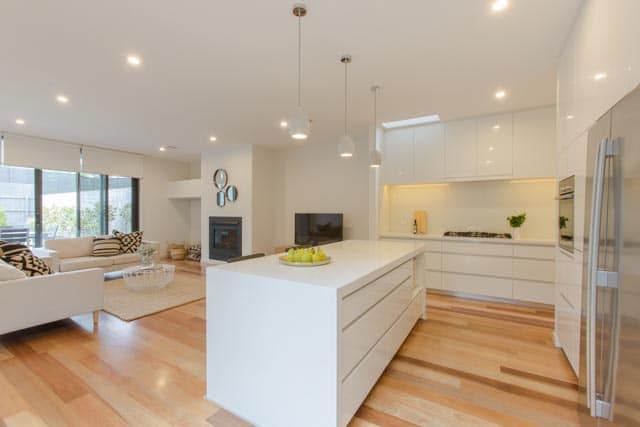 Kitchen
Go through your fridge, freezer and pantry and throw away any out of date packages and items. Next, give your shelves a wipe down, removing fridge and freezer shelves where possible for a deeper clean. When replacing items, organise them into categories to make things easier to find in future.
Wardrobes
Take the opportunity to pack away your winter wardrobe and make space in your cupboard for your summer clothes. Label any boxes or bags to make it easier to find things again next season. This is also a good chance to recycle or sell any unused or unwanted items of clothing.
Smoke Detectors
When spring cleaning, take the chance to check and test your smoke detectors. If you make this part of your routine every year you can ensure your family will remain safe in the event of a fire.
Give the House a Mini Makeover
Spring can be a perfect time to freshen up your home with a new look – a fresh coat of paint, a new colour scheme or simply some new cushions, throws or rugs can transform your living spaces. To aid organisation in the future, purchase some extra boxes or baskets to keep things neat and tidy – these can also become an eye-catching part of a room's décor.
Spring cleaning is the perfect opportunity to consider your home's storage options. If you find things are laying about everywhere, it might be time to invest in some extra cupboards or drawers or perhaps you simply need to be firm in throwing things away. If an item doesn't have a home or a purpose, it may fall into the category of clutter. Throw it away and watch, as your home transforms into a fresh, clean and organised space once again.
To discover more handy hints for your home, head to our blog