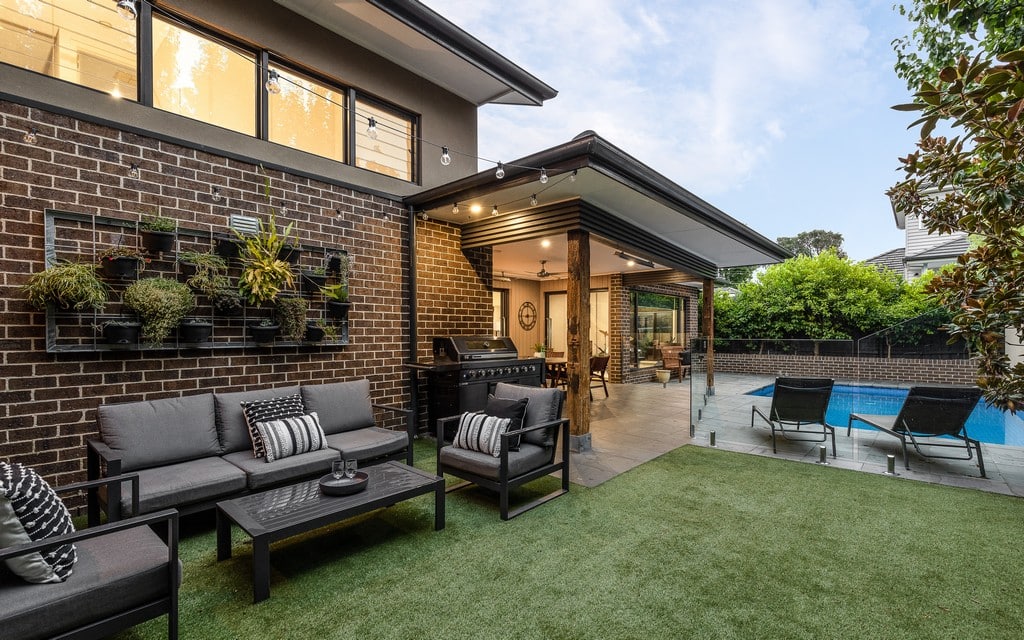 The exterior design of a home encompasses just as much character as what's on the inside, so it's important to have an outdoor living area that is perfectly suited to your needs. Whether it's for spending time alone relaxing or entertaining a crowd, an outdoor space plays a functional and social role within the home.
At Ramsay Builders, our luxury home builders, are experts in designing outdoor spaces that perfectly balance aspects of functionality with beautiful, modern designs. Here's our top tips to elevate and rejuvenate your outdoor space in 2023!
Optimising natural shade
When considering how to get the most use out of an an outdoor area, keep in mind that it will need to be suitable across all the seasons. During hot summer months, natural shade can be a great element within an outdoor space, while in the cooler months plants can help protect against wind chill.
Using leafy plants and greenery is a great way to incorporate natural shade to provide a break from the heat, while also looking appealing and adding hints of colour. Ensure to look for plants that can withstand elements, including direct sunlight and rain.
Where natural shade isn't available or is reduced, think about how outdoor structures and builds can be used as well.
Decide on a colour palette
Choosing the correct colour palette is important when creating a cohesive and well-designed atmosphere. It's important that all aspects of the outdoor space blend well together, from the colour of timber to the colour of outdoor furniture so think about how the colours that are used across benches, walls, tables and décor can work together.
Ensure your colour palette reflects the atmosphere that you want to create in the outdoor area. Soft, neutral colours are a great choice if you are looking to create a feeling of a peaceful oasis. Whereas a bold palette with bright colours can be used to create a more lively entertaining space.
But don't just stop on the outside! You may also consider creating synergy and flow between interior colours and exterior to create more of a seamless transition.
Appropriate furnishings
If you're going to be using the outdoor space regularly, quality outdoor furnishings are a must. Through rain, hail or shine, it's important that furniture used outdoors is multifunctional and highly durable.
A staple feature of an outdoor space is seating. You don't want the area to be overcrowded, but having many different seating options is a great way to make a space inviting and aesthetically pleasing. From chairs and benches to daybeds and couches, there's a multitude of options to compliment the atmosphere you're aiming to achieve.
When designing for an outdoor space, you can also think about otions that can be built in, such as benches or seating or tables, to create an anchor point for your other furnishings to be placed around.
Include a focal point
A focal point is a great way to draw attention and create an eye-catching element within an outdoor space, acting as a central gathering place. Focal points can range in size and design, with some ideas including:
A standout piece of furniture
Fire features, such as a fire bowl or an outdoor fireplace
Elemental art, such as a large piece of wall art, and steel or tile sculptures
Water features, including water fountains or a small river / pond
When designing your outdoor area, the most important thing to remember is to design it to suit your needs and what you're aiming to use it for. Whether it's for entertainment, or for peaceful alone time, choose aspects and finishes that perfectly compliment what you're after!
Ramsay Builders are Melbourne's professional, luxurious new home builder. When you are ready to design and build your outdoor space (or any project you have on the horizon!), reach out to our architectural home builders team at Ramsay to ensure it gets done right.