When it comes to choosing the flooring for your new custom home, your options can feel endless. With so many different types of flooring available, how do you make the right decision?
The best way to select your flooring is by conducting in depth research to discover what will suit both your needs and your budget. Some of the most common types of flooring we see in our custom homes are tiles, polished concrete, hardwood timber, engineered timber and carpet. Keep reading to find out more about how each option could work in your luxury home build.
Tiles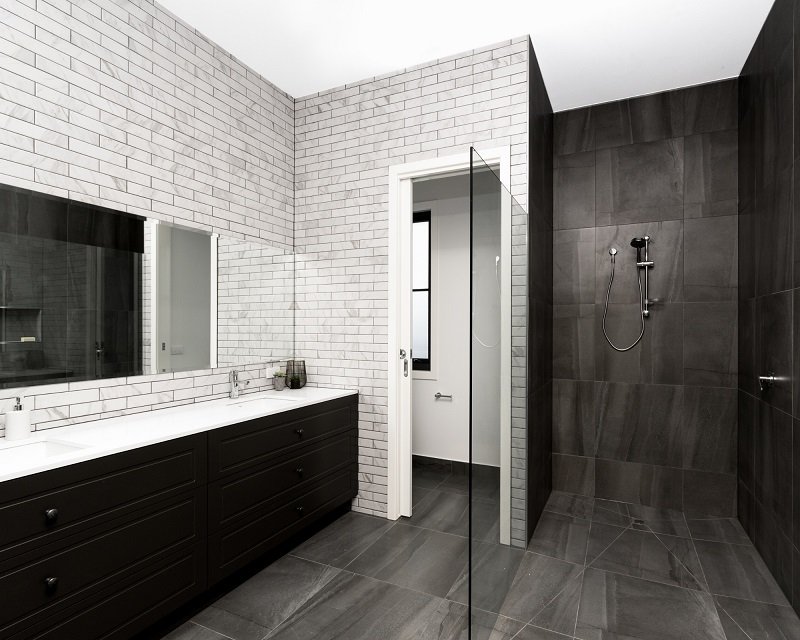 There are two main types of tiles used in homes – ceramic and porcelain. Ceramic tiles are made of natural clay and are easy to cut and lay, while porcelain tiles are more dense, durable and generally more water resistant than ceramic tiles.
Tiles are fantastic for use in hallways, kitchens and other areas with a high level of foot traffic. If you have small children or pets, tiles are a great option as they won't scratch, mark or crack easily.
Tiles are generally quite affordable, easy to maintain and are great for warmer weather as they keep your home feeling cooler. When picking a tile colour, be wary of stark whites or blacks, which will show dust easily. A softer, neutral toned or textured tile is often the best way to avoid this.
Polished Concrete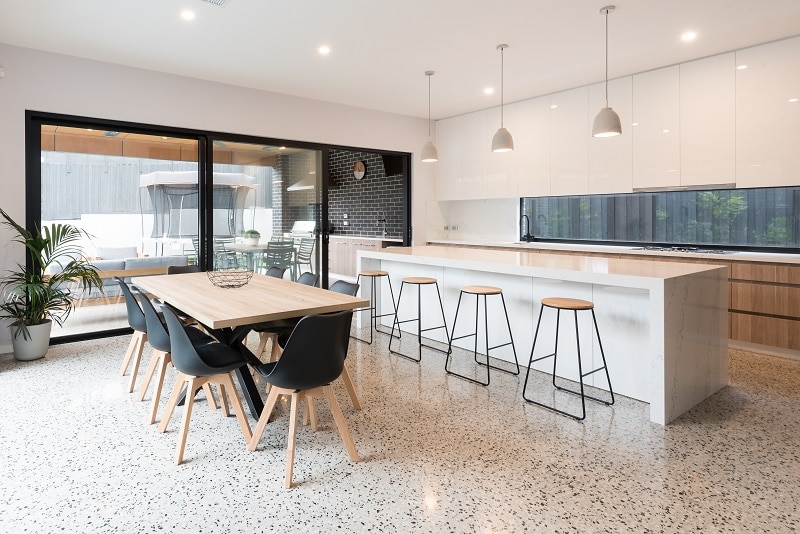 When we think of concrete flooring, we generally think of cold, dull surfaces that are only suitable for garages or the outdoors. In fact, concrete can be a great option indoors, offering a unique look and style for your home. Available in a range of colours, patterns and sheens, concrete can take on a variety of appearances, meaning you'll find something to suit any home.
Some of the benefits of concrete are that it's durable, easy to maintain and incredibly hard wearing, making it perfect for high-traffic areas of the home. Unlike tiles and timber, which can scratch, dent or crack over time, polished concrete is a low maintenance, long term option. It can also be sustainable and energy efficient as you have the option of using your existing slab and keeping the home cool in summer and warm in winter.
Hardwood Timber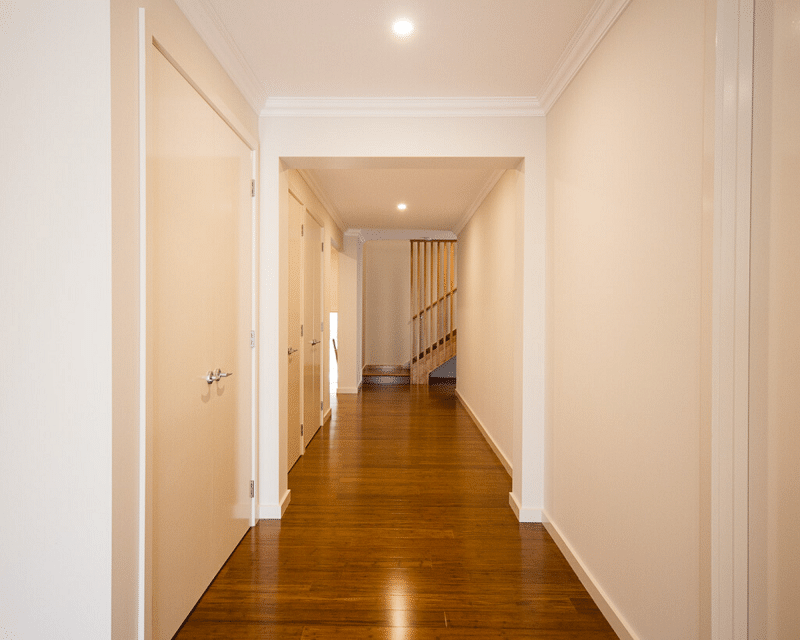 Hardwood timber flooring can be a great choice for any area of a home. It's soundproof, easy to clean and maintain and extremely durable. A variety of species, including oak, maple and spotted gum and pigmented polishing options mean there are a selection of colours and tones available to suit any home.
Another great thing about hardwood timber is that its thickness means it can be sanded and re-sanded up to 5 times to keep it looking flawless. But while hardwood timber is an easy material to maintain, it's also quite material, which means it will scratch, mark and dent more readily than other flooring options.
Hardwood timber can also be an expensive option, starting at around $60 per square metre, excluding installation. However, the price is wholly dependent on the species chosen and the density of the wood.
Engineered Timber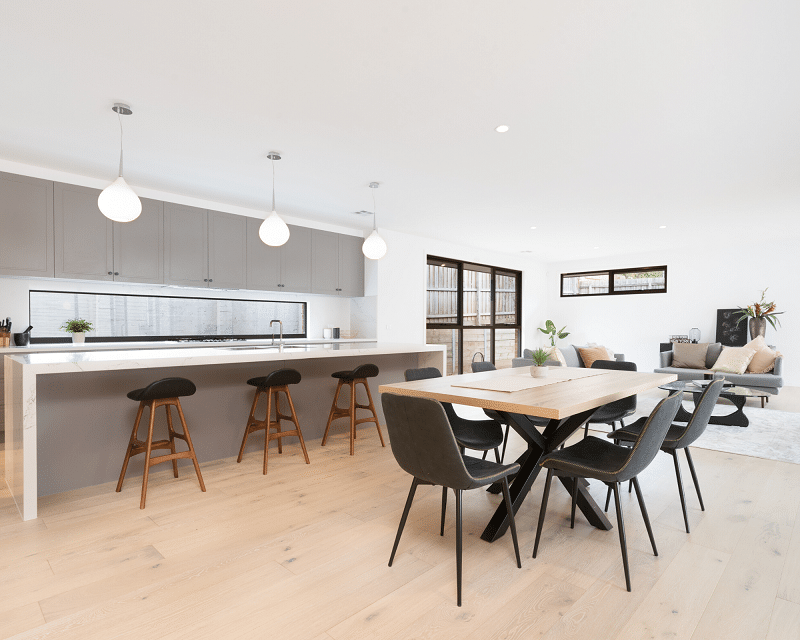 While engineered timber looks like hardwood timber, it is quite different. It has a thin veneer on top, while the remainder is made of layers of less expensive plywood or recycled timber fibre mixed with stone dust. Engineered timber is cheaper than hardwood timber and less sensitive to changes in temperature and humidity, which means it won't expand and contract as much as hardwood timber will.
Unlike hardwood timber, engineered timber comes in a wide variety of colours, patterns and widths. Because engineered wood is lower in price, it can be easier to afford exotic species, such as tigerwood or Brazilian maple, which are more resistant to scratches and dents.
Carpet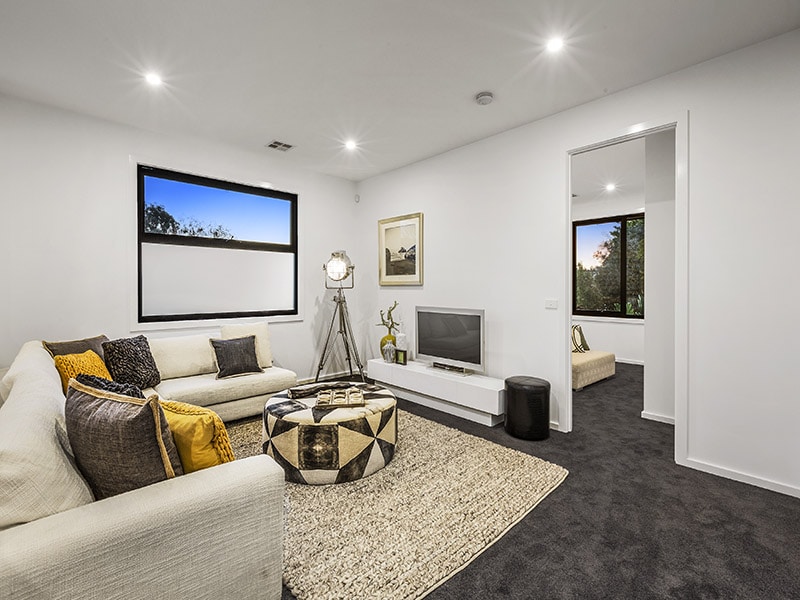 Carpet can be a great choice for bringing warmth into cosy or relaxed spaces of the home, including living areas and bedrooms. It is non-slip, quiet and soft making it an appreciated addition in winter.
Carpet varies in thickness and fibre density and generally speaking, the higher the density, the more durable the carpet is. There are many different types of carpet on the market, each of which has their own benefits:
Woollen carpet – a durable choice that naturally resists moisture and stains
Nylon carpet – a strong, wear-resistant and synthetic option that lasts a long time and can be recycled at the end of its life span
Acrylic carpet – another synthetic option that is resistant to mildew, crushing and insect damage
Polyester carpet – a moisture-resistant, synthetic choice that can be dyed to produce bright colours
Polypropylene carpet – this carpet is made from plastic, making it highly resistant to moisture, mildew and stains
So, what flooring option sounds like the best choice for your new home? If you're still not sure about what option will suit your home, why not see it for yourself in our Interactive Design Studio? This exclusive space offers virtual reality technology that allows you to see your selections in action before your home has been constructed.
Find out more about Ramsay's Interactive Design Studio here or get in touch with our team to start bringing your luxury custom home to life today!